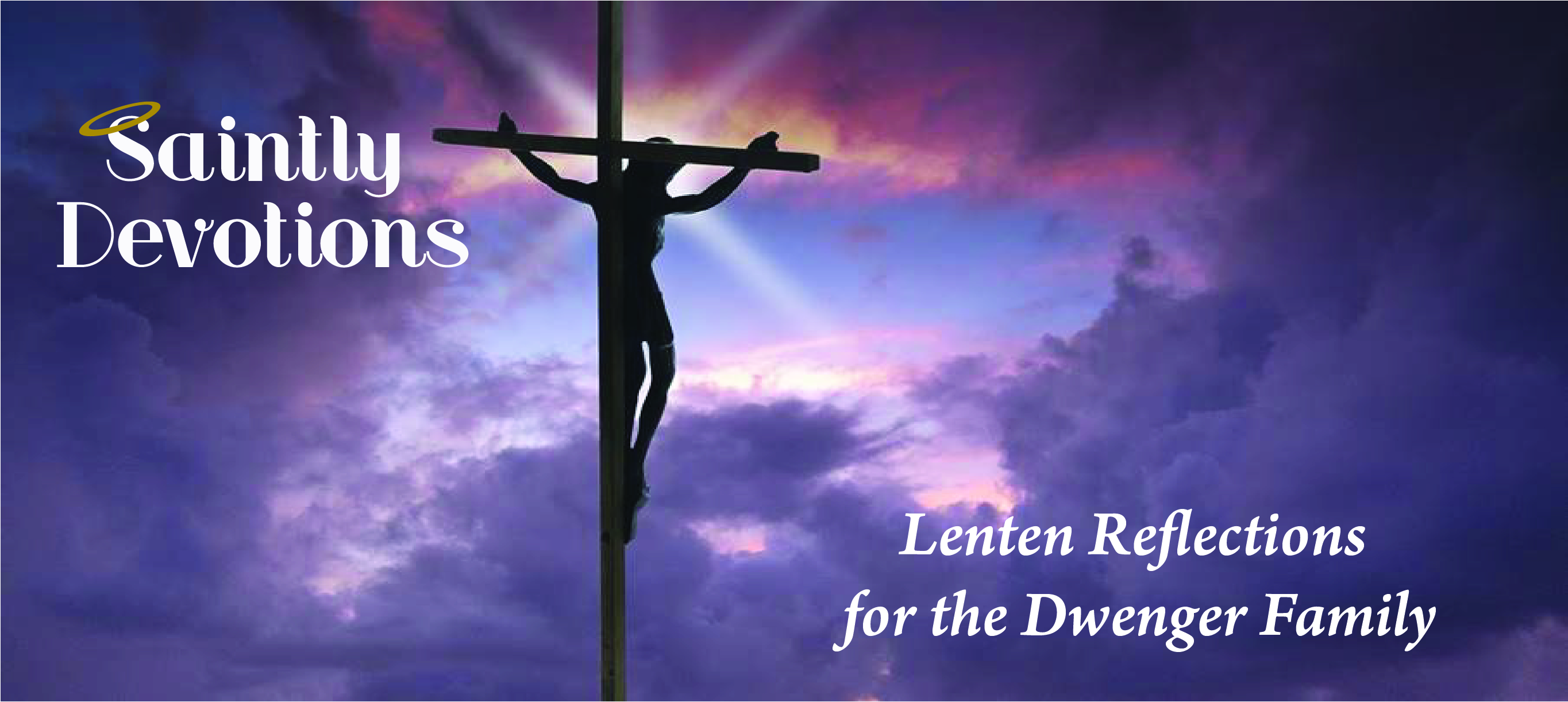 During our Lenten Journey, we will be sharing weekly Lenten reflections written by various members of the Dwenger Family. May we all grow closer to Christ during the next 40 days and beyond.
April 11
The reflection that follows is based on the reading for this day, Monday April 11th, and more specifically on the First Reading: Isaiah 42:1-9.

   This is a week of great tragedy. The culmination of the drama of love and suffering is eminently upon us this week, and we see Christ fall so that we all may, with Him, rise again. The Monday readings emphasize the intensity of this sacrifice and show the humble dignity with which Christ approaches the cross. This creates our motif for the whole week, and so it is right to begin Holy Week preparation even now with Isaiah.

   It is apparent that Christ came to establish justice as it is directly mentioned three times within the ten verses. However, Christ's image of justice does not match that which the Israelites are expecting. As the self-proclaimed protagonists of their own story, the Israelites are anticipating that their savior will come as a great warrior who will ruthlessly slaughter their enemies in a perceived "justice." They could even be excused of this interpretation, for later in this very same chapter Isaiah says, "The Lord will march out like a champion, like a warrior he will stir up his zeal; with a shout he will raise the battle cry and will triumph over his enemies" (Isaiah 42: 13). However, Isaiah first shows the Messiah as one who does not defend Himself, does not "cry or lift up his voice, or make it heard in the street" not even "a bruised reed he will not break, and a dimly burning wick he will not quench" but "he will faithfully bring forth justice" (Isaiah 42:2-3). Christ shows us that God's justice is compassionate still. His enemies greedily await the trauma of the Crucifixion, and yet Christ goes forth to it as our humble warrior king to establish justice.

   What then are we to do? If God Himself sees justice as this self-sacrifice, who are we to say otherwise? Many of us can remember, with great clarity, the ways in which others have wronged us. We hold these memories close to our hearts, allowing our hearts to harden and become cold within the shadows of these grudges. We believe that it is just for us to do this, for these people must get their due later. Instead, I would encourage a different approach. If the reader has a chance, and five minutes, I encourage you to listen to the entirety of Louis Vierne's Kyrie. In it, I believe we find our answer: we have all wronged God, and thus harmed our relationship with Him. Far be it from us to hold the sins of another against them, when we have also wronged our Creator who sacrificed Himself wholly for us and our mistakes. Instead, we must gratuitously beg for mercy at the feet of a Lord and Messiah crucified. As we move into the rest of this week, we remember our mistakes and beg for forgiveness, and must do our best to forgive others of theirs to live a truly just life.
Nick Miles '14, BDHS Theology Teacher
Click here to see today's readings
April 4
What Jesus Teaches Us About Throwing Stones
And as they continued to ask him, he stood up and said to them, "Let him who is without sin among you be the first to throw a stone at her." John 8:7
As we reflect on this Sunday's gospel, we can see Jesus weaving throughout it a lesson that comes alive for us today. In today's society, we see people constantly pointing fingers at each other without first examining their own hearts. Today, Jesus is challenging all of us to take a step back and follow his example.

The gospel passage begins with the scribes and Pharisees bringing a woman to Jesus who has been caught in adultery. Not only are they trying to shame this woman, but they are also testing Jesus to see how he reacts to their accusations. We can all learn a great deal from the way Jesus responds to them.

First, Jesus bends down and begins to write on the ground. Initially, it may seem like Jesus is ignoring the scribes and Pharisees, but his small action speaks volumes. Jesus is acting in humility, identifying with the humiliation of the woman. Saint Thomas Aquinas said that this action of Jesus signifies that God, in his mercy, is stooping down to help us in our own sinful humanity.

Then, at the end of the story, Jesus says, "Let him who is without sin among you be the first to throw a stone at her." One by one, the scribes and Pharisees begin to take a deep look inward at their own sinfulness as if Jesus has turned a mirror towards them. Soon they leave the temple area, until only Jesus and the woman remain. At this point, the woman likely expects Jesus' condemnation but, instead, experiences His compassion, love, mercy, and forgiveness towards her. We can all see ourselves in the adulterous woman, because we are all sinners. But Jesus' actions give us hope: We know that His love and mercy are always there for us. If we are ready to take a humble examination of our own sins, He is waiting with arms wide open, ready to forgive us in the Sacrament of Reconciliation.

As we reach the end of this Lenten season, have we received His loving mercy? If not, the time is now. It's never too late to repent. We can always turn back to the Lord seeking healing and restoration even in our most humiliating weaknesses and deepest woundedness. Jesus is waiting.

Stephanie (Leffers '01) Nees

Click here to see today's readings
March 28
The parable of the Prodigal Son has always held a special place in my heart. It may be because I played the lead role as a 5th-grader in St. Jude's production of Barbecue for Ben, a modern musical adaption of the story. However, I think it is deeper than that. There are so many reflections on the prodigal son and his father's forgiveness, and we all can relate to that feeling of despair that leads us home where we are loved. However, this Lent, I want to reflect on one of the less thought of people in this parable, the older brother.

We can assume that the older brother was in good favor with his father. He listened, didn't cause trouble, helped on the farm, and did what he was told— probably in a way that older siblings have always liked to keep order in their families. He spent his time working hard while his younger brother squandered his inheritance, and he did not join the celebration when his brother returned home. Instead, he allowed his building resentment, jealousy, and pride to dissolve all compassion for his brother, leaving him bitter and angry.

The parable ends with the father attempting to renounce his son's anger and explain why he should be celebrating his brother's return. But maybe the father missed an opportunity to extend true compassion to the son that never strayed in the first place. The older brother felt as if he was being taken for granted. That's not a great feeling, and we deserve that our loved ones speak, say thank you, and acknowledge our contributions. Perhaps this brother is the type of person that struggles to say "no" or overdoes it for others; the lack of his father's validation may have left him feeling unloved or misunderstood. Maybe it's time for the older brother to set healthier boundaries and remind himself to take care of his own needs.

Sometimes we end up in situations where we take on tasks and responsibilities that no one has asked us to do, and we neglect to take care of our own needs. Like the older brother, we need to remember that we are not required to serve constantly. If we don't, the resentment that we let grow inside us will eventually spoil positive relationships and destroy the goodness for which we are created. This Lent, if you find yourself resenting others, take some time to pray and reflect on how you help and who you help. Make the decision today to use the strength that comes from God to institute self-care for yourself and to build relationships with outward care and compassion.

Sam DiFilippo '04
Click here to see today's readings
March 21
Lent is a time of fasting. It is a time to give to those who may be in need. But, most importantly, it is a time of prayer and invitation to grow in spirituality. Have you ever thought about WHY exactly you give up your favorite treat, volunteer at the local food drive, or try to set more time aside in your day for prayer during Lent?
I think so often we forget the intention behind certain things we do during Lent, and the things we are giving up or adding into our days can start to feel more like a chore rather than a true sacrifice to the One who gave the ultimate sacrifice.
The reality is that we all have our own crosses. Whether that be anxiety, a broken relationship, financial stress, depression, family issues, or insecurities, we are all carrying the weight of something that we probably don't necessarily want to be carrying, but it is necessary we do. Suffering, as much as it takes, gives more. It gives us the opportunity to be at a loss of words, sometimes even unable to pray. However, it is in that weakness that God sweeps in and redirects us back to Him. It is in our sufferings that we are able to fully unite our hurting hearts to the Sacred Heart of Jesus and the cross that He bore.
As a senior athlete and tearing my ACL during soccer season, I felt the weight of the cross. However, it is in uniting our hearts to Jesus' that we are invited into a deeper spirituality because it is in our sufferings that we experience the greatest form of love, which is the Passion story of Jesus Christ. We can decide how to journey through our sufferings, by either rejecting or accepting our sufferings. When we choose to accept our sufferings, although difficult, may we, too, endure them with a grateful heart knowing that our sufferings as much as they take, give so much more.
So, during this Lenten season, let us reflect on the sufferings that we have, and the ways Jesus is present and working through them. 
Grace Morris '22
Click here to see today's readings

March 14
First, a confession: I'm a chocoholic! Not a day goes by when I don't at least nibble a few squares of my favorite chocolate bar. Chocolate and I go way back, so growing up, it usually made the list of Lenten sacrifices. As my faith matured, I discovered the beauty of "adding" a Lenten discipline to replace that which was being sacrificed; replacing an unhealthy habit with a healthy one; replacing that which takes my focus away from Christ, with that which brings my focus to Christ.
A favorite past Lenten addition was praying for a different person in my life each day of Lent, asking that person for any intentions I could offer on their behalf. I figured sharing my prayer life with others would also be a good way of evangelizing. However, this Lent I am convicted by the Ash Wednesday gospel reading. "Pray to your Father in secret . . . Let your almsgiving be in secret . . . Fast but do not appear to be fasting." Hence, I am challenged to secretly pray, give, and fast, while exhibiting joy, praise, and thanksgiving, showing no evidence of sacrifice to the outside world.
 
Then God placed the following on my heart: One letter added to the word FAST gives me FEAST. As I add to my discipline of fasting, I make room to feast on God, the ONLY ONE who satisfies my deepest longings. His presence is more comforting to my soul than any food is to my stomach. Fasting from whatever I normally run to for comfort redirects me to run to His word, His presence, His love, His feast which brings me true joy, peace, and contentment. For only when a vessel is emptied (fasting), can it be filled up again (feasting).
 
As I fast from gossip, I can feast on morsels of scripture, filling my heart (and mouth) with charity. As I fast from retail therapy, I can feast on anonymous good deeds, filling me with joy knowing the recipient has no one to thank but God. As we fast from (fill in the blank), we can feast on (ask Him where you need to sink your teeth into His banquet of grace). And as I fast from my good ole' pal, chocolate, I can feast on Eucharistic Adoration visits, encountering the Pièce de Résistance whose rich, sweet, True Presence satiates my hunger, something chocolate, or any other earthly desire, could never do. Prayerfully, Christ's light will shine through me, and no one will be the wiser that I am "giving up" anything, because any fast I make is gloriously overshadowed by the feast I gain: Jesus.
So, next time you're heading to that certain chocolatier on Auburn Road, drive a little further south and turn in to the Oratory of St. Mary Magdalene to feast on the sweetest delight: a little slice of heaven here on earth. Happy Feasting!
Navigating this Lent in stealth mode, I remain . . .
Anonymous
Click here to see today's readings
March 7
The Christian life is counter-cultural. To have hope, and especially to show hope, has become a public offense worthy of ridicule. As Catholics, we are called to be the unpopular. We are the counterbalance to secular cynicism. I hope that I can grow during Lent by building the strength to think and act with hope. I find that as Catholics we need to build an abundance of strength just to stay positive: because while thinking with hope may be easy, allowing our hope to manifest in the face of opposition is more difficult today than I can ever remember.
In Sunday's reading, we were reminded that "No one who believes in Him will be put to shame." (Romans 10:11) So important is this advice that St. Paul quoted previous scripture to get the attention of first-century Christians and, perhaps, to keep our attention in 2022.
The undercurrent of popular opinion seems to be this: stop acting hopeful lest you seem foolish and find yourself ostracized. I don't think people want to live this way. My guess is that most people have good intentions but get caught-up in fear. Many in our culture have fallen for this daily ruse where negativity is seductively masked as intelligence. Am I falling for it, too? Am I strong enough to pull off the mask? Maybe, on my better days. Other days I grow weak and fall into conformity: hence, the need for Lenten prayer and fasting.
These are the questions I'm asking God this week. I hope they are helpful to you and your family: What would Jesus do to encourage hope in the face of fear? How would He encourage the majority to find their strength? 
Jessica (Brita '98) Segyde
Current Parent
Click here to see today's readings
March 2 - Ash Wednesday
For forty days, Jesus was in the desert praying and fasting (Mk. 4:1-2) before He started His public ministry. The Church, in Her wisdom and love, has also designed for Her children a period of forty days every year just like Jesus to pray, fast and give alms. This is the time we call "Lent." In preparation for the celebration of the Lord's Passion, Death, and Resurrection at Easter, the faithful are called upon to imitate or follow Jesus during these forty days. It begins today, being Ash Wednesday, when the Church reminds us that we are all created from dust and unto dust/ash we shall return. The faithful are therefore invited to a deep examination of conscience and honest effort to get closer to God for a fruitful Easter and, ultimately, to remember that we shall all leave this world one day and to live lives worthy of the Lord when He comes. On this day, the faithful are marked with ash as a reminder of this certainty.
Throughout the period of Lent, we seek the Lord by praying more, reading, and meditating on the Scriptures, going to the Stations of the Cross to contemplate on the Passion of Christ, praying the Rosary, going to Mass, visiting the Lord in the Holy Eucharist, and making a sincere effort to be in a state of grace. We also serve the Lord by giving alms. We should not forget that charity covers a multitude of sins (1 Pet. 4:8) and the Lord's injunction that "whatsoever you do to the least of my brothers, you do unto me" (Mat. 25:40). Finally, we practice self-control and self-discipline through fasting. Ash Wednesday and Good Friday are obligatory days for fasting and abstinence. Other Fridays in Lent are also obligatory days of abstinence. Other forms of fasting are also encouraged.
Brothers and sisters, Jesus calls us to "come away to a lonely place" (Mk. 6:31) and be with Him. Let this Lenten season be your lonely place with the love of your life, Jesus. Do not let this season of grace pass you by. It is a season to reconcile with God and neighbor. The message is simple and strong, "return to me with all your hearts." (Joel 2:12)
Happy Lent
Fr. Luke Okoye, BDHS Chaplain
Click here to see today's readings