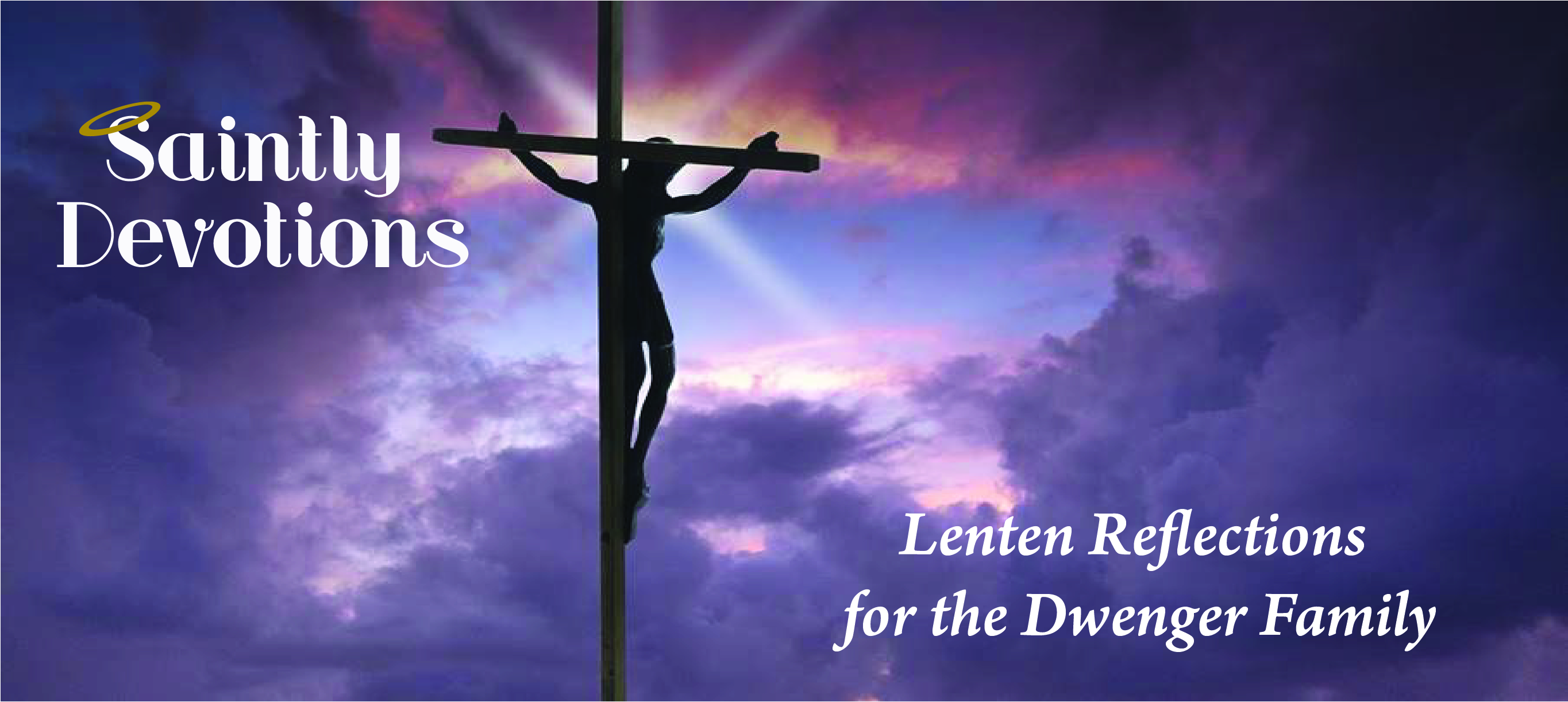 During our Lenten Journey, we will be sharing weekly Lenten reflections written by various members of the Dwenger Family. May we all grow closer to Christ during the next 40 days and beyond.
February 22
Matthew Kelly, a prominent Catholic Evangelist often states that, "The beauty of Catholicism is every human being's right." Of all of the facets of Catholicism that we can draw upon, for me, today, it is the beauty of the Church season. If you are like me, with the impact of the global pandemic and all of its limiting effects on our social interactions, health of loved ones, and our daily routines, we can sometimes fall into the mundane routine cycle where every day can feel the same.
The beauty of the Church season snaps us from ordinary time into Lent. That change in season presents us with an option to step away from our daily routines and focus on our relationships with Christ and our neighbor. Lent provides us with a wonderful opportunity to leverage discipline in order to become better disciples of Christ. By choosing to do something, anything during this season, you choose to turn away from something else and toward Christ. The Lenten season offers us the opportunity to reflect and spiritually participate in the journey with Jesus and his disciples, as he vividly provides us with the perfect example of selfless love, friendship, sacrifice, and surrendering to God's will.
My hope and prayer is that we absorb all that his Church season provides, so that as we experience more and more seasons, we begin to weather and, in doing so, begin to transform into the future saints HE has called us to be.
Mother Mary, Pray For Us!
May God Bless You and Keep You!
Sean M. Lyons
Current BD Parent
Click here for today's readings
Ash Wednesday - February 17
Now is the time to Rediscover Jesus! This past Sunday, we heard in the gospel of Mark how Jesus cleansed a leper. After the leper was healed, Jesus warned him sternly to not share anything with anyone. However, for whatever reason, the man went away and publicized the whole matter. The issue with that is not so much the disobedience; after all, it's only natural to want to share the joy that we experience in our lives. Whether that be a new favorite restaurant, something that happened at school, or during work, it is natural to share goodness with others. But in that sharing, the deeper question that should be asked is this: "how is Jesus being discovered?"
Jesus ultimately wants the man to remain silent so that He has the opportunity to encounter and meet people without individuals having any pre-formed opinions about Him. The miracle that is happening is partly the healing that Jesus offers, but it is also the unstated reality that Jesus says, "I want you!" Jesus' desire for the leper, and for all people, is to be encountered, to be discovered. In this discovery, we have an opportunity to be healed, loved, and offered direction for our lives.
Brothers and sisters, Lent is inviting us to a time of rediscovery of who Jesus Christ is. Whether this be our 1st Lent, our 10th Lent, or our 50th Lent; every Lent is an opportunity to discover, in a new way, who Jesus is and to receive from Him the statement, "I want you!" It is our responsibility to get to know Jesus. Now you may be asking, how do I make this rediscovery?
Commit to reading or listening to scripture every day. Fr. Mike Schmitz has a podcast, "The Bible in a Year." START NOW IF YOU HAVEN'T!
Commit to a daily Mass during the week.
Pray the Stations of the Cross.
Spend time before the Blessed Sacrament, either with exposed Adoration or in a chapel where the Blessed Sacrament is present.
Go on a retreat. If there isn't one to go on, select a day and set aside quiet time where you don't have to focus on school or work, but can rest with God.
Whatever is done, use the theme, Rediscover Jesus, so if people ask, "what is the Lenten goal?" we can say, "I'm rediscovering Jesus." In this rediscovery we should want to share Him, so others have an opportunity to discover who He is and so they have the opportunity to learn how much He wants them!
Fr. Jay Horning
BDHS Chaplain
Click here for today's readings